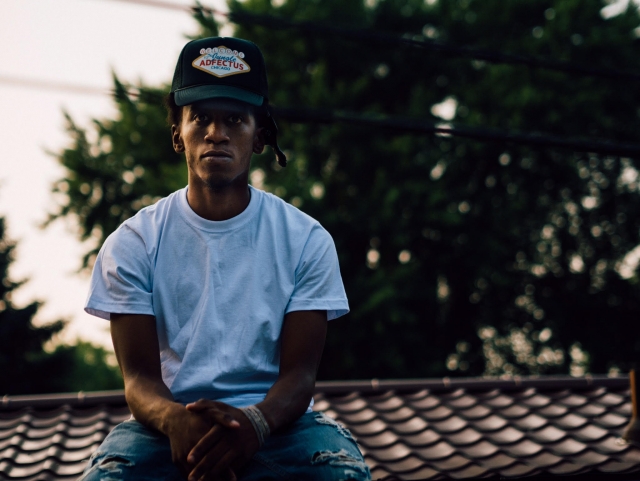 Jayaire is an up and coming rapper from Woodside, Illionis. On the internet he's been given the epithet of a vocalist, but he's much more than just that. Jayaire is an ambitious young dude who is fed up with being broke, and reaching for wealth, since staying afloat is never enough for him. He's a "semi-alcoholic" who doesn't let alcohol or any other intoxicant distract him from his mission, that is honing his craft. Like most of us, he deals with different relationships. Be it women, family members, or hood dudes with motives of doing harm to him & his friends. Heck, sometimes I feel like I know Jayaire Woods personally.
That's surely because he is talented enough to share his story through music. Yes, he has a distinctive voice that may serve either as an asset or impediment—depending on the listener's taste—to his career in the long run, but that's not why he stands out. His debut project, Trees42morrow proved Woods' candid lyrics are the reason behind him being of high value. At times, these lyrics [arguably] come off as if they're mindlessly scattered all over the place, but his confidence suggests he knows what he's doing. The impactful nature of each line reels you closer inside the mind of Jayaire; A universe in its own, filled with genuine thoughts, fresh stories, and huge aspirations. A perfect plan for a mixtape that's actually introducing the world to Jayaire Woods. When you think about it, it doesn't strike as a surprise when he says he's "been writing since back in '05."
A major focal point of

Trees42morrow

revolves around women. There's times when he appreciates them to the point he contemplates "

if

she's the one"

(

prototype

), and there's times when he's simply fed up & self-seeking (

"she just want all the love reciprocated, I just want all the love when I be faded."

reminiscing

). His painful lament on the short fallings of relationships creates a perspective that any listener can gravitate to. (I tweeted a texting-related line* by Jayaire once, and somewhat got in trouble because a girl assumed it was a subtweet.) Perhaps a more remarkable input on affinity, is when he raps

"my shorty told be managed, wonder how she could manage: single mother. Though I love her, I'm too young to play parent."

Although young, Jayaire appears mature enough to know when to dodge responsibilities he can't afford taking.
"Want more for myself, I ain't content with tryna stay alive." – Jayaire Woods
Typically, with youth comes low-income. And Woods isn't one to hide his impecunious years, nor one that dwells on it without trying to change it. "Got some songs I'm sitting on, I can't afford to record them." he raps on 5:40AM. Then, around nine tracks later he states: "Got a pocketful of sunshine, I been tryna get dollars," further voicing "I'm just tryna eat so I been missin' out on fun times." The ever-continuing hunger that drives him to increase his financial is based on humble intentions. He wants to get his sisters through college, and have enough money so he can properly enjoy life's worldly pleasures with his homeboys. Make no mistake, he already is moving up the economic ladder, and is now awaiting the money-boost music shall bring. "Mixtape overdue, tryna see what this money do," Jayaire asserts.
Jayaire Woods continually provides a positive outlook on any adversity he may face. It's a mindset that helps the listener attain higher spirits. 2MAH—the intro track—ends with Sherman Brothers' There's a Great Big Beautiful Tomorrow, and on the outro—2DAY—you can hear him rapping "no matter what, the sun gon' shine" after "young & unemployed cause my hour ain't worth a dollar." Aiming for success, happiness and wealth, he tries his best to make it clear he sees the bigger picture. It's obvious there's a lot surrounding him, sometimes maybe even at a concerning rate. His voice embodies the pain he deals with through every difficulty. Nevertheless, his voice also assures you he'll be fine when he yells "…but momma I won't fall" on the hook of onnaway.
Many rappers earn a listener's full attention through interviews or other taped moments in which they're able to share their perspective. Jayaire Woods is capable of grasping his audience by only packaging his personality in melody, and colorful rhyming. Woods has a lot more to unfold. There is a need for more in-depth, growing-up stories. "Momma worried 'bout the way that I live," he says; While it's easy to be aware of the reasons she may be worried, further elaboration would only assist his significance. That may as well be saved for the next project, whose quality needs doubling, in order for it to trump Trees42morrow. Until then, all we can do is pray our mommas love us, and pray our girls know they're beautiful.
*: The line is "keep receipts on when we textin'. When I don't reply, that's making a statement."
Written by Dennis B: A writer living in an isolated country.