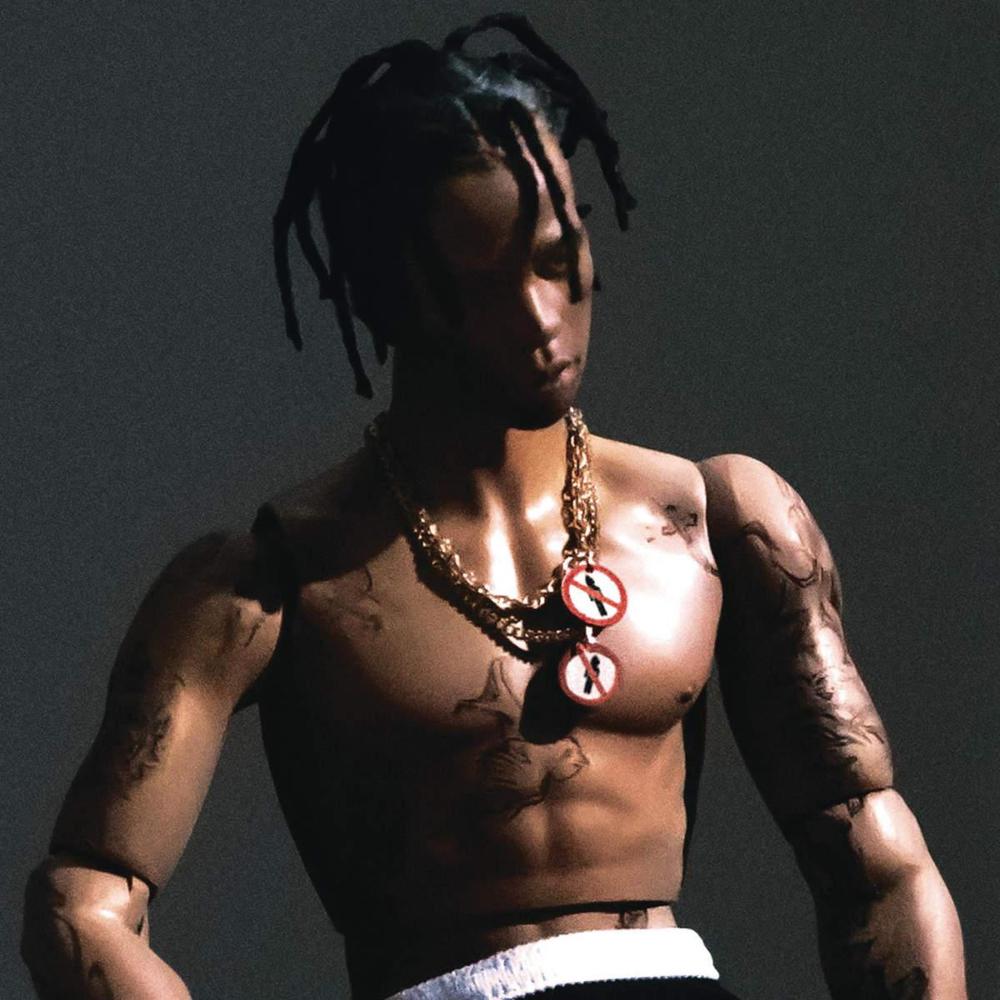 Travi$ Scott has an innovative vision he simply can't execute right. Days Before Rodeo—a melodic fusion of genres—favored by the majority for its brashness and experimental sound, was the cornerstone of what many had been expecting from Travi$ sonically. However, the true beauty of DBR stood behind it defying the archetypal song-making rules whilst remaining pleasant. With that project, Travi$ ensured his position as a nonconformist. A year later, Rodeo arrives and it sounds as if it's worth more of a listen only at times it's close to Days Before Rodeo.
Take 90210 for example, a track quite reminiscent of Rodeo's predecessor. Switching from heavy metal guitar riffs, to soft bass alongside mellow crooning & Kacy Hill's vocals for the first two minutes; then modifying the tempo and giving the song a fresh colorful feel. It evokes that euphonious rebellion Travi$ often aims for. Same with Piss On Your Grave & I Can Tell: the former basically yells "fuck your expectations" when it comes to how a rap song should sound like, meanwhile the latter mixes MikeWill-esque glassy production with African drums. These type of combinations are a clear indication that instrumentation is Rodeo's most precious jewel.
It's a gift and a curse, though.
At times, the production's rich texture becomes unmanageable for Travi$. His subpar rapping causes beats like Nightcrawler or Flying High to come off as too excessive. Maybe an instrumental-only version of Rodeo would be a masterpiece. But with Travi$' mediocre bars, it sometimes turns into a battle between your concentration and a song's overpowering nature — making it nearly impossible to pay attention to what's happening as it plays. That's the downfall to Travi$' vision. He has an irreproachable ear for instrumentals, and does imposing vocal work; but it seems he finds it highly difficult to ideally connect the two.
As Rodeo ends, it's evident that nothing good about the album has to do with Travi$ directly. All the magnificent moments throughout Rodeo originate from either its producers, or the features. Even when Scott slightly excels, it comes as a result of him mirroring another artist's essence (hear: Antidote). For Travi$ Scott to be the least notable element on his own debut LP says a lot. This puzzle-like endeavor of adding different, preexistent pieces together, in order to form a full picture isn't working for him. It's time to stop mimicking his peers and focus on being more than a strenuous live performer.
Yes, it's cool to mosh next to Travi$ Scott at his gigs. But the euphoric rage only lasts for that one hour he's on stage. Having a brain that assisted Kanye West in devising Yeezus, it's a shame not to invest enough time in making efforts to deliver timeless tunes. Imagine if Travi$ used his talents to create a musical masterpiece that can be appreciated, even when the listener is alone in his room—rather than just when he's surrounded by a thousand hyper, drugged out people at a show—instead of using them to forge content. When [and if] he does that, his presence will be everlasting. Until then, we have to cope with his simpleminded ways of attempting to do so.
Written by Dennis B, who is currently living in an isolated country.
Edited by a Canadian Jewish rapper.