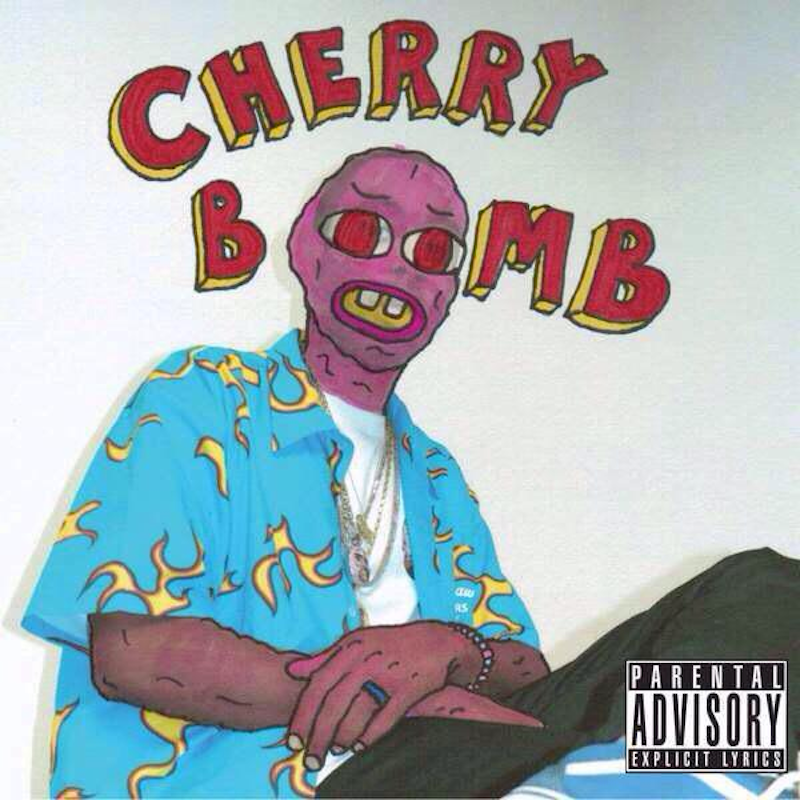 Despite Cherry Bomb being Tyler, The Creator's most challenging listen to date, he's now flying, and encourages everyone to do the same.
As a result of all the success from his previous releases, Tyler has freed himself of depression and insecurities. This sudden gaiety serves as a source of energy for Tyler. Energy that presents itself through instrumentation on the album. To emphasize this, he chose a different route with mixing — making most of the compositions overwhelmingly loud, oftentimes causing vocals to come off as pointless mumbling.
https://play.spotify.com/track/586xfl7VsCFPD9z5iJoKEp
Tyler—an LA native—has written one of his most conscious verses on RUN, which should resonate with many citizens trapped in the gangbaging lifestyle in LA. But it remains overlooked exactly because of why you think it would. Although intentionally, this sound experimentation strongly decreases Cherry Bomb's worth. Especially once the raucous title track begins playing. CHERRY BOMB is perhaps the messiest song in recent memory, where the verses & a bulk of the instruments are inaudible due to ear-splitting bass.
Another problem with CHERRY BOMB is that it comes right after FIND YOUR WINGS, arguably the finest cut from all 13 tracks.
https://play.spotify.com/track/7er0EUMY653mxZ1NVD9mwQ
FIND YOUR WINGS is a dreamy record made of strings, with Roy Ayers handling the bells/pitched percussion alongside Kali Uchis' serene vocals. Its purpose is to motivate the listener, so they see no limit when it comes to aiming high and achieving their dreams.
And as he flies, Tyler has convinced you to do the same. You're ready to take off, but then CHERRY BOMB starts and you're back in a mosh pit with drunk bros™. It's a constant misadventure that wounds Cherry Bomb's cohesiveness.
The album begins with the lively guitar riffs of DEATHCAMP, and finishes with the relaxed aura of OKAGA, CA. Throughout the project, songs never really seem to complement each other.  Almost as if—during Tyler's flight—the tracks are divided in two groups, and sitting separately on both ends of the plane. Never seeing eye to eye.
It may throw the listener off, but who's to say that's not what's helping Tyler soar comfortably?
https://play.spotify.com/track/1dXYBALYTj3AMxa8hgiQhA
https://play.spotify.com/track/2CnrJj6Jz4vSe5E1hsWtpg
Cherry Bomb's flaws are easily detected. But the better parts of this LP come to life as you dig deeper, and appreciate Tyler's art for what it's trying to be. Even the 'bad' mixing becomes an implement during PILOT, allowing it to display the intended sentiment. A happy, stimulating message on a haunting beat, really does make first class feel like coach.
Other than producing, he also shows improvement rapping-wise.
Tyler's changed. And he clearly expresses it in his raps. His bike Slater is no longer in the picture. He raps about his 2SEATER instead. His infatuation with cars has grown so much, he's recorded his car engine and you can hear it as the album plays. Shock value has been reduced as well. Now, he sings about his attempts to ignore a perfect girl because of her young age, rather than saying he raped a pregnant bitch and told his friends he had a threesome.
However, his enhanced rapping skills are best exhibited on BUFFALO. The 2nd track from Cherry Bomb finds Tyler addressing the racist accusations Boyce Watkins made regarding his Mountain Dew commercials, and his situation with Hopsin for the first time [in a song].  Tyler seems at peace whilst rapping "Bought me a mansion that bought some attention. Ain't give none to Hopsin." Proving he skyrockets whenever tackling mention-worthy moments from his career (see: SMUCKERS, 1st verse).
"I got banned from New Zealand, whitey called me demon …  Ban a kid from the country, I never fall, never timber. But you fucked up as a parent — your child idol's a ni**er."
Not only did SMUCKERS reserve a spot on many year-end lists thanks to exceptional Kanye West & Lil' Wayne verses, but it also defined Tyler, The Creator's work on the whole album.
Besides sounding awfully similar to his musical influences, he creates the ideal melodies for those same influences—Charlie Wilson, Pharrell etc…—to appear on the track and give marvelous performances. One of Cherry Bomb's greatest trait is the fact every feature excels (shoutout to ScHoolboy Q, too), making it hard to imagine these particular songs without them.
In a confusing time for Odd Future, Tyler proved he's much more than just a fad.
After making WOLF—which still stands unparalleled—he decided to get out of his comfort zone and record something that's difficult to be instantly accepted by the masses. "Named my album Cherry Bomb because Greatest Hits sounded boring" says Tyler, but this project has more 'personal favorites' material than something that would fall under his greatest hits.
The Cherry Bomb flight has plenty of turbulences, somehow accompanied by captivating aerial views. It may not be the most pleasant flight you've been a part of, but it's one you won't forget in a long while.
https://play.spotify.com/track/332Yig3HD2IdDigzlf5Ndl
RATING: 6.8 CHERRY BOMBS OUT OF 10
Written by Dennis B.