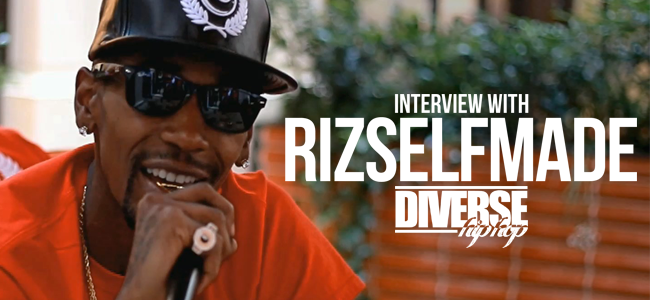 We here at DHH like to catch artist when they are early into their careers and support them and see them take off. We've interviewed various artists who've later taken off to become huge stars such as Kid Ink, Dizzy Wright, Hopsin and many more. Today we would like to introduce you to RIZSELFMADE who is an up and coming artist out of Harlem who has been getting looks from 50 Cent and G-Unit a lot recently. You can catch him in the G-Unit video 'Watch Me', 50's 'Don't Worry Bout It' video and the Young Buck 'Bring My Bottles' video. With him appearing around G-Unit we got curious as to who he was and looked into him and loved his music. So, we at DHH made it our duty to let the people know more about him as a person and an artist. While he was out in London for the first time with G-Unit to perform at the O2 Arena which was a sold out crowd of 20,000+ people we got a chance to interview him. In this very detailed interview you will get to know Riz and his journey into music, what made him fall in love with music, how he ended up meeting 50 Cent/G-Unit, his music, his future plans with his label 'SELFMADE INC' and much more.
We've also added his new single 'Jordan's And Foreigns' under the video for you guys to check out which is off his new project 'Dat Made Life 2′ coming soon.
Follow RIZSELFMADE: Instagram | Twitter | YouTube
Interview Shot & Edited by: KRKGFX
Check out the interview and new song after the jump.